My First Dog Love
When you find a dog that melts every part of your heart, you know that this dog is part of your family and part of your life unconditionally.
Years ago, I lost my dog Buddy after 12 years. It was heart-wrenching to watch him go over the Rainbow Bridge and not see him when I came home from work or running errands. No matter how bad of a day you had, the tail wagging and puppy kisses can make everything better. And especially when there is no one else to greet you.
Today is his birthday and every year I feel the same sadness. He was lovable and loyal and meant so much to our family. Through his blindness and epilepsy, which he developed at three years old, his love was still unconditional. We bought him at a Puppy Store when my children were very young. Soon after we found out all the problems he had (being bred at a puppy mill). I would recommend that anyone who wants a dog to love should go the rescue route so you can avoid cross-breeding and illnesses that make you upset (and a little broke too)
I swore that I could not go through this heartache again. But then a dog comes into your life….
Enter My Cuddle Muffin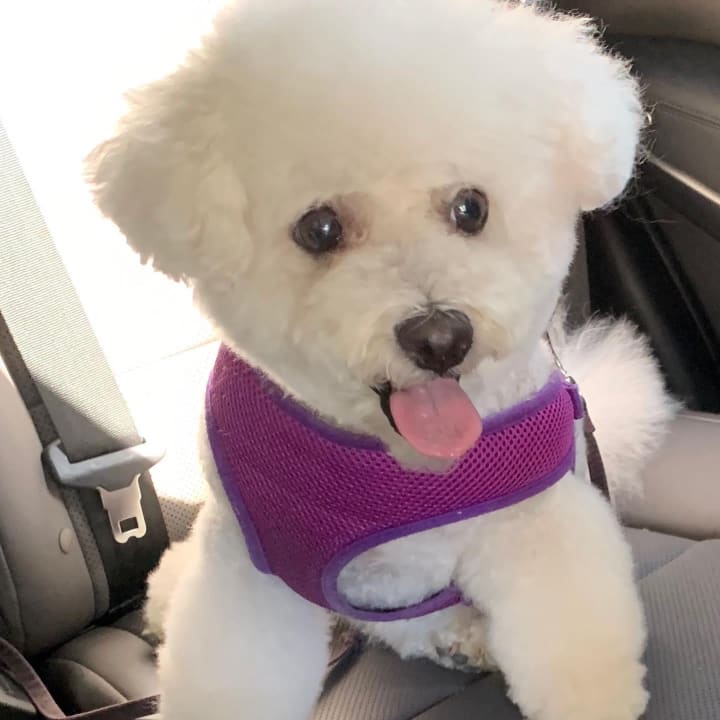 My husband and I were engaged to be married and had a few meetings with our priest. Our priest had a Bichon Frise, named Faux Pas (an oops or mistake in French), who I immediately fell in love with. She was rescued by him, found on the side of a country road. He knew that when he brought her home to his wife, he would hear about his faux pas, hence, so that is what he decided to call her. She is the most loving, cuddly little bichon that makes you feel so happy inside. Every time we met with him, she would sit close to me and listen to our conversations and sigh happily. I couldn't wait for our next meeting to see her again. I kept resisting because I knew how heartbreaking it was to lose a dog you loved and did not want to endure that pain. But the love continued to grow….
Our priest would ask us what we would name our dog if we had one. He even said a dog like Faux Pas. I immediately said Penne like the Pasta and then she would be Penne Gallagher, representing both her Italian and Irish owners.
We got married about five months later. We knew that Faux Pas was pregnant and our priest often asked us how we would feel having a little Penne. I was still resistant because my heart was still broken from losing my Buddy just a few years before.
The day of our wedding we were told that we were being given the female of the litter as a wedding gift. We were still very hesitant. Did we want to take on a dog now? Could we go through the pain of losing another animal down the road? So many questions, we wondered what to do.
We went to the rectory about a month later to visit. Prior to getting there, we discussed that if we see this precious little puppy we would think about it before committing to taking her. Well, there was no thinking. As he handed us our little bundle, he said "Welcome to your forever family" and we were immediately in love with her.
She was the runt of the litter and so very tiny. She fit in the palm of my husband's hand. We had never seen anything so precious.
Frantically, we took her to PetCo with us as we had nothing ready at home. We left the rectory with her favorite squishy toy and a bundle of hope. She is the daughter of a rescue on the side of the road and she is the most pleasant, lovable, wonderful dog that I ever had.
When we watched The Big Bang Theory and Sheldon called out for Penny three times, our Penne girl would look up and listen. She knew her name immediately and she felt at home in our house. She is the queen of our castle. Penne does bark when she sees other dogs walk by our house but if you come in expect to be kissed and jumped on with more excitement than you have ever witnessed. Her short legs will try desperately to climb up and she often needs help getting onto a chair or couch. Bichons are incredibly smart and she knows what time she gets her treats and her food, and she is sure to bark and let you know. It amazes me how her bark is different for each thing she wants. If you didn't know better you would look in her eyes and see some human qualities.
Penne tilts her head when you speak to her. We tell her everything we are doing as if she is a human being. She understands when we say that we are going to Florida to see Grandma and delightfully hops in the car for the long ride down. She loves our daughters and son-in-laws and loves the little babies (our grandchildren) that visit. All she has is love and kisses to give.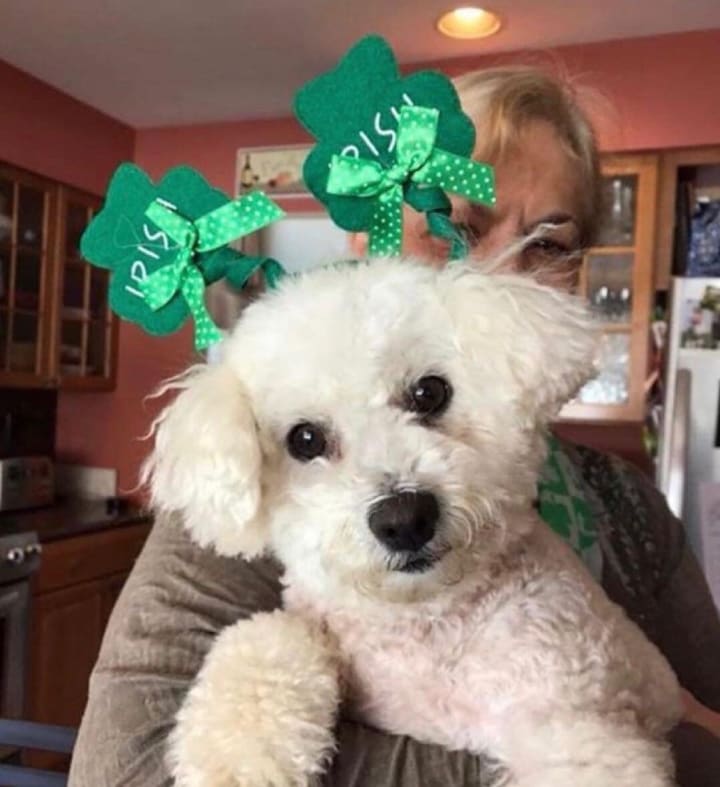 Every moment is fun and loving and she loves us both unconditionally. We take her everywhere that she is allowed to go, and when we can't she misses us and often feels anxiety. We are so thankful and blessed, and most of all, overjoyed that there was a Faux Pas on the side of the road to give us our beautiful baby.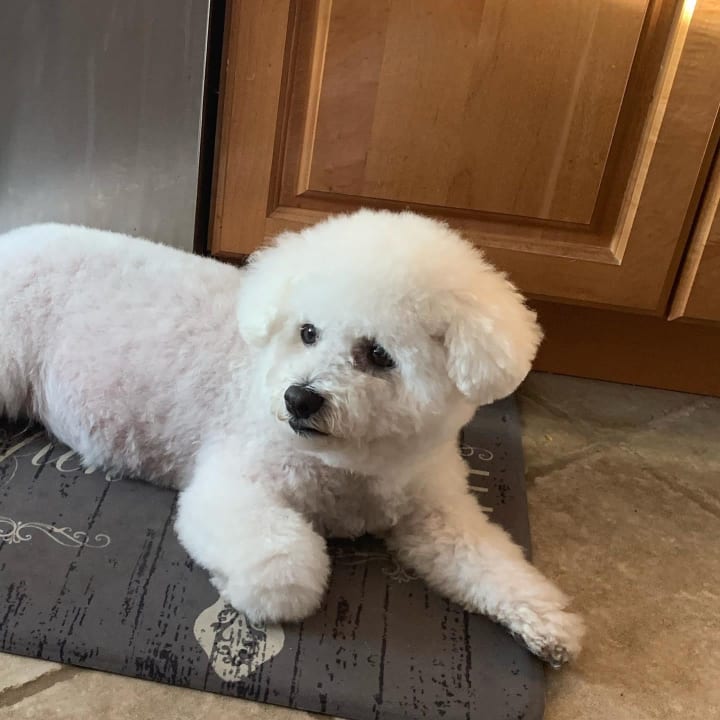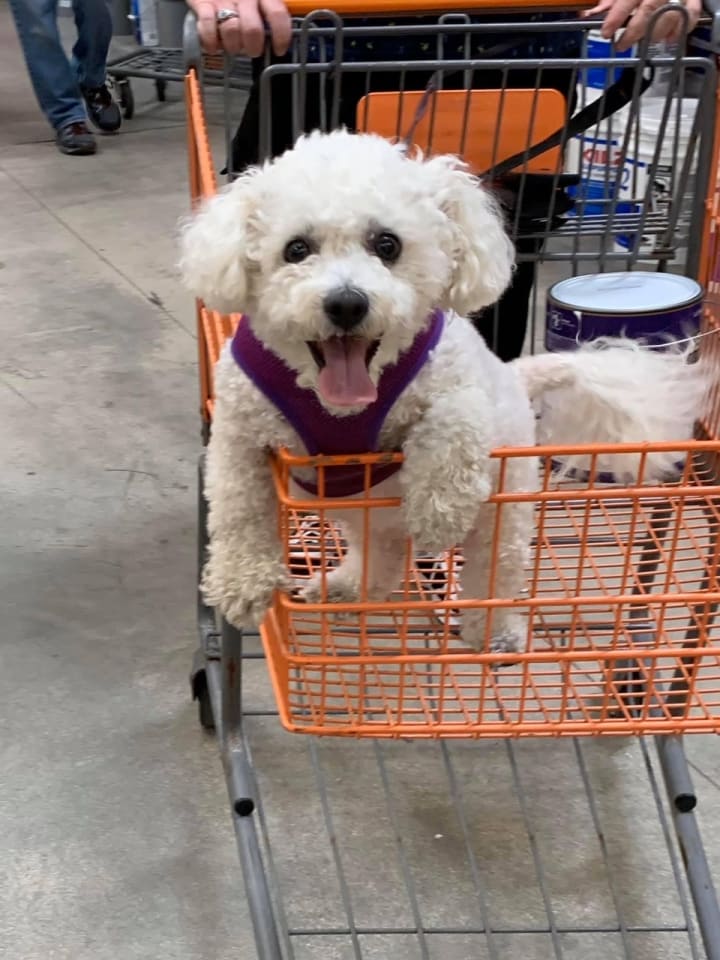 I shared this story in a Vocal Challenge and hope you will click here to view.
Do you have a story about a dog you rescued?